Top 10 Reasons To Watch NFL Preseason
March 12, 2021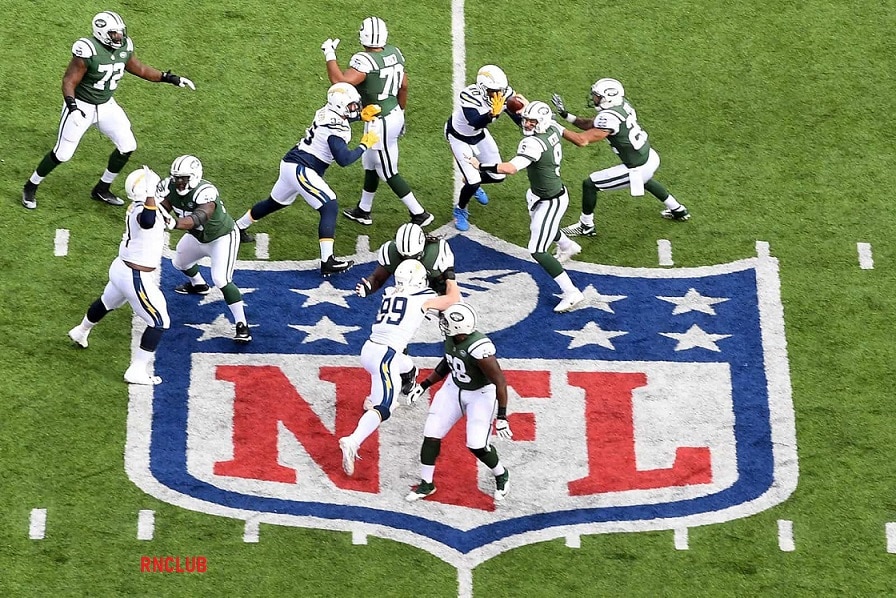 NFL players can't just jump into the regular season and start performing at a high level. They need weeks of training, leading up to more training before they play fake games that nobody cares about. Once the fourth-stringers are able to showcase their worth(lessness), and the starters and backups work out the kinks through a four-game preseason schedule played in front of 10,000 stepdads trying to gain the love of their stepsons, the real games are set to begin. The NFL still will have its problems, but it should be a much smoother and well-oiled machine by September 7.
Much like the players themselves, you also need a good amount of practice before you dive into the real thing. You haven't watched a meaningful football game since February 5, and no doubt your timing is off. Have you even timed out how quickly you'll be able to make it to the fridge, send a group text message making fun of Hunter's idiotic decision to start Todd Gurley and make it back to the couch in time before the game comes back on after a fifth straight Christmas commercial in October?
Of course not. You aren't prepared. You need the preseason. Which is why we've come up with a list of the top 10 reasons to watch the NFL preseason. You've got some stretching to do, and we're here to help. Don't just dive right in like Vince Wilfork around ribs. Take these 10 tips and cultivate your football-watching abilities to peak performance.
1. Injury Watch
If you aren't watching to ensure your team's best player doesn't go down in the second quarter with a gruesome injury in a meaningless loss to the Bucs, who will?? The main goal of the preseason is to not get hurt. It's basically the advice my dad gave me when I went off to college. "Don't get hurt and don't go to jail, son, and if either of them happens don't call me first." That's basically the preseason in a nutshell.
These games provide you with ample opportunity to play doctor while praying to the gods of football that Drew Brees' clavicle can stay in its socket for 16 weeks out of the year. You have to be the first person to see it so you can fire off three consecutive tweets castigating your team, owner, and Roger Goodell for allowing the sham that is the preseason to continue. Injury watch is your sworn duty as a diabetic NFL fan with two mortgages. You must do this to be ready for the regular season. Those tweets won't send themselves.
2. Trash Talk Practice
You may have just yelled at the guy in a tan Subaru who cut you off in traffic yesterday, but screaming at your television during a football game is entirely different. You don't have the pleasure of looking at the referee right in the eye as you flip him off, so it takes creativity and practice to pull off a good insult to the TV. Hone your skills in the preseason.
These are players you've likely never heard of fighting to make rosters. Their every move will be sliced and diced by coaches in the film room, but you have the opportunity to do it in a way that benefits you down the road. Most of the things you say about opposing players, your own players, your family, friends, and co-workers while watching football cannot be published in this space. But it can be screamed at your television during the NFL preseason to get you in the right mood for football.
3. Kick-Off Gambling Season
What's more exhilarating than sports gambling? Gambling on your gambling by betting on NFL preseason games! Shell out some cash (legally, of course, because you live in Las Vegas *wink wink*) for the NFL's opening salvos and make a quick buck (or take out a second mortgage).
With crazy preseason rosters and an abundance of games, take advantage of Vegas for the first time in your life.
Note: Rnclub does not endorse illegal gambling, but if you win, we accept cash and checks for donations.
4. Evaluate Your Team's Depth
You're a real fan that has questions and concerns about your team's depth as it begins a new season. The preseason was almost specifically tailored to you and your scouting. This is the part of the season when you're able to analyze the new draft picks and come up with your own conclusions based on the snap counts they get and their performances on the field.
Despite what this list will lead you to believe, regular NFL fans do in fact watch the preseason, and this is one of the main reasons. Getting a complete look at your favourite squad acts as one of the few rewards preseason affords. Time to cash in (plus you already lost all your real money gambling on the games).
5. Party Practice
Hosting a lavish football gathering at your home this fall? Prepare more than just a day in advance by using the preseason to your advantage. Host a viewing party for a meaningless game and work out the kinks like the players on the field.
During this preseason party, you'll undoubtedly learn a lot about your guests, which can help tailor the real party to their liking when real football returns. Does Mark prefer organic potato salad instead of the real thing? Use this learning experience to uninvite Mark from the actual shindig. Plus, you have an excuse to have a party, and what better way to get through the doldrums of August than with some booze and snacks?
6. Esoteric Reference Development
The preseason is the perfect time to brush up on that one extremely specific reference you can throw out at a watch party that will make you look like a genius despite the fact that you are, in fact, pretty dumb.
"Did you know that David Onyemata is from Nigeria? Crazy, right?"
Watching the preseason is like gathering information for a test you'll take three months down the road. It's the period where you're able to snag that one killer line that is sure to impress the guy at work who thinks he's a fantasy football wizard because he bought a subscription service to FootballBrotherhood.net. There is no better smug glance than the one after you've told the party that Jalen Richard went to Southern Miss after he takes a punt return to the house for the Raiders. This is the knowledge you develop from bored announcers in the preseason, so tune in to show out.